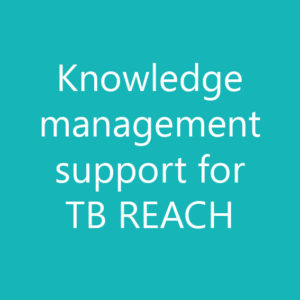 Title Knowledge Management Support for TB REACH 2016-2020/21
Granting Agency UNOPS – Stop TB Partnership – TB REACH
Period 15 Sept. 2016 – 1 April 2021
Amount $1,000,000 CAD
Under the leadership of Dr. Madhukar Pai, the Research Institute of the McGill University Health Centre (RI-MUHC) has been awarded a 5-year grant to serve as a knowledge management partner to the Stop TB Partnership's TB REACH initiative. The initiative, funded in part by Global Affairs Canada, provides one-year grants to partners throughout the world to increase the number of people diagnosed and treated for TB. Successful projects are considered for scale up by other donor agencies and/or national governments. The RI-MUHC's role for Waves 5-9 is to provide technical assistance to TB REACH projects in two areas: operational research and knowledge dissemination.
News
Stop TB Partnership's TB REACH Wave 5 grantees in full speed to evaluate progress and impact of their projects
TB REACH project featured in the McGill Faculty of Medicine newsletter